Chinasak Suwan-achariya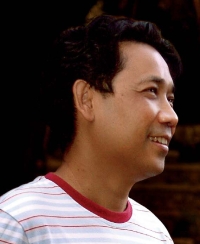 Suwan-achariya Chinasak – Doctor of Economics, Associate Professor (Professor of Faculty of Economics and Business Administration Thaksin University, Thailand.
Sphere of scientific interests: logistic, geoeconomics, foreign trade, integration processes in an economy.
An author is more than 30 scientific articles, 12 books and monographs, participant more than 10 research projects, scientific conferences, seminars both in Thailand, and abroad.
E-mail: chinasak2000@gmail.com
iDs and personal counting:

Lists of articles in journals indexed in Scopus and Web of Science databases:
Suwan-Achariya, C., & Suwanmanee, N. (2012). Logistics cost in purchasing and selling pigs a case study: Pork butchers of thungwang market.
International Research Journal of Finance and Economics,
87, 166-175.
Suwan-Achariya, C., & Pitak, N. (2012). Collected latex proportion for processing procedure: A case study: Bandon Khilek Rubber Fund Cooperative Limited. European Journal of Social Sciences, 28, 287-294.