Co-Chairman-of-the-Editorial-Council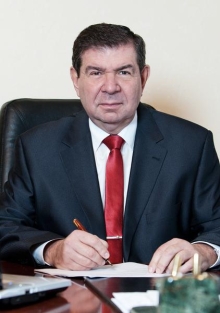 Academician of the National Academy of Educational Sciences of Ukraine Mazaraki Anatoly Antonovich – Doctor of Economics, Professor, rector of Kyiv National University of Trade and Economics.
Known scientist in the field of the modern economic theory, in particular, on the issues of commodity circulation in market conditions. Author of scientific works on the problems of formation of the effective mechanism of state regulation of the sphere of circulation, substantiation of methodical aspects of the strategy of foreign economic activity of Ukraine, development of domestic and foreign trade.
Prepared and published more than 330 scientific papers, including 33 monographs. Author and co-author of 31 textbooks and manuals on the economy. Prepared 16 doctors and 12 candidates of Sciences, carries out scientific advising 6 post-graduate students and 2 competitors of a scientific degree of the doctor of Sciences.
Email: knteu@knteu.kiev.ua
Web: http://www.knteu.kiev.ua/
iDs and personal counting: