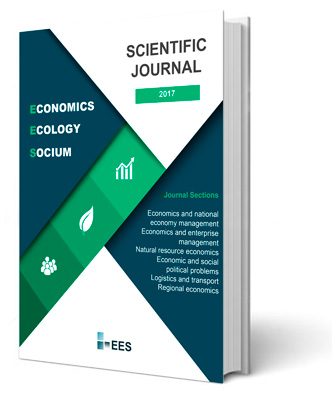 ISSN 2616-7107
UDC 33
Frequency: 4 times/year (quarterly).
Index Copernicus: Indexed in the ICI Journal Master List
Founded: 2017.
Aims and Scope:
Open Access: Following the principle that knowledge is a public good, the journal adheres to the BOAI definition of open access: that users have the right to "read, download, copy, distribute, print, search, or link to the full texts of these articles".
Economics, Ecology, Socium is an open-access journal for the publication of high-quality research in theoretical and applied questions of environmental economics and sustainability development, setting up business environments and new forms of enterprise, and the introduction of eco-innovations.
The journal is now available online-only. In addition to significantly reducing the environmental impact of printing as important passing to the ecological economy, and also will assist global interactivity of the journal with creation of new online initiatives on strengthening of comfort of the use.
Editor-in-chief and publisher: Viktor Koval, Doctor of Economics, Professor.
Manuscript languages: Ukrainian, English (mixed languages).
Journal Sections:
Economic development and management of the national economy.
Market mechanisms of entrepreneurship development.
Natural resource economics.
Challenges of economic development of society.
Logistics, transport, infrastructure.
Regional economics.
Publication Ethics and Requirements to Prevent Abuse of Publications.
The journal editorial board has taken measures to ensure high ethical and professional standards.
The journal has been indexed in scientific databases: