Smart-logistics for people management of innovative small and medium enterprises` development: Agile methodology
Abstract
Introduction. Innovative entrepreneurship is one of the applied spheres, in which the implementation of core competencies: knowledge and skills from other areas is complicated nowadays due to challenges and rapid changes. Management systems for small and medium-sized enterprises are not so classical now, but horizontal and, what most importantly – flexible, agile is. Thus, it is proposed to turn to modern models of people management to increase the effectiveness of companies and institutions for future economy development.
Aim and tasks. The article appeals to management innovation and the use of the "mobility gap" as one of the most discussed economic problems that are necessary for the urban areas and require an appropriate solution development. The proposal is to use smart logistics for an effective people management system for innovative small and medium enterprises to zoom the weight of the cluster unit. The assertion that the increasing impact of horizontal management in outsourcing services is the way for further development and modernization of tax policy for the local economy.
Results. In the nearest future, the character of the local economy will change as communities develops cities, improving the quality of life, ensuring safety and neighbourhood policy and stimulating creative development. And it will create opportunities for cutting-edge initiatives, entrepreneurship and local municipalities, as well as developing relationships and competencies based on innovation and creative interaction between stakeholders in the new digital reality, while remaining people-centred. It is proposed to introduce management innovations into the management system according to the developed model according to the agile method of modernization: "to do" – list; "in progress" and motivation; "to verify" – monitoring; "done" – analysis; and business scaling. And to customize services, it is necessary the high quality achieving, speed that meets the needs of the market, and the quick creating of unique innovations.
Conclusions. This methodology has been tested by the project – Erasmus 2020, despite the "lockdown" conditions, by the open data project "City Code" with the aim of creating conditions for sustainable urban development by combining: talents, technologies, tolerance, and should be used to people management of small and medium-sized innovative enterprises.
Keywords:
smart-logistics for people management; innovative small and medium enterprises' development; agile methodology.
References
1. Ghosh, P. (2019). What is People Management? Complete Process with Best Practices. HR TECHNOLOGIS. Retrieved from https://www.hrtechnologist.com
2. Small, K.A., & Verhoef, E.T. (2007). The Economics of Urban Transportation. Routledge, London.
3. Kolozsvari, D., & Shoup, D. (2003). Turning Small Change Into Big Changes. Access, (23), 2-7. Retrieved from http://shoup.bol.ucla.edu/SmallChange.pdf.
4. Gorovyi, D.A. (2016). Comparison analysis of enterprise intangible assets structure in Ukraine and over the world. Marketing and Management of Innovations, (4), 256-268.
5. Svintsytska, O., &Bogoyavlenska, Yu. (2018). Theoretical and practical aspects of leadership coaching in innovative projects through creative management. Infrastruktura rynku, (17), 192-197.
6. Rodrigue, J-P. (2017). (ed.). The Geography of Transport Systems, Fourth Edition, London: Routledge.
7. Birchenko, Yu. (2018). Plug and play smart parking. NWAVE. Retrieved from https://www.nwave.io/news/plug-and-play-smart-parking.
8. Whiting, K. (2020). Future of Jobs Report-2020.World Economic Forum.
9. Sliger, M. (2011). Agile project management with Scrum. Paper presented at PMI® Global Congress 2011. – North America, Dallas, TX. Newtown Square, PA: Project Management Institute.
10. Altexsoft (2016). Agile Project Management: Best Practices and Methodologies. Retrieved from https://www.altexsoft.com/whitepapers
11. Badawi, M. K. (1993). Management as a new technology. McGraw-Hill.
12. Rentschler, M. (2020). The Impact of Coaching in Faith-based Organizations: Dr. Val Hastings. MCC. StarCoaches.
13. Persia, L., Basile, O., & Shingo, D. (2010). European Transport Research Review. Elettronico, 2(3), 129-137.
14. Handy, S., Van Wee, B., & Kroesen, M. (2014). Promoting cycling for transport: research needs and challenges. Transport reviews, 34(1), 4-24.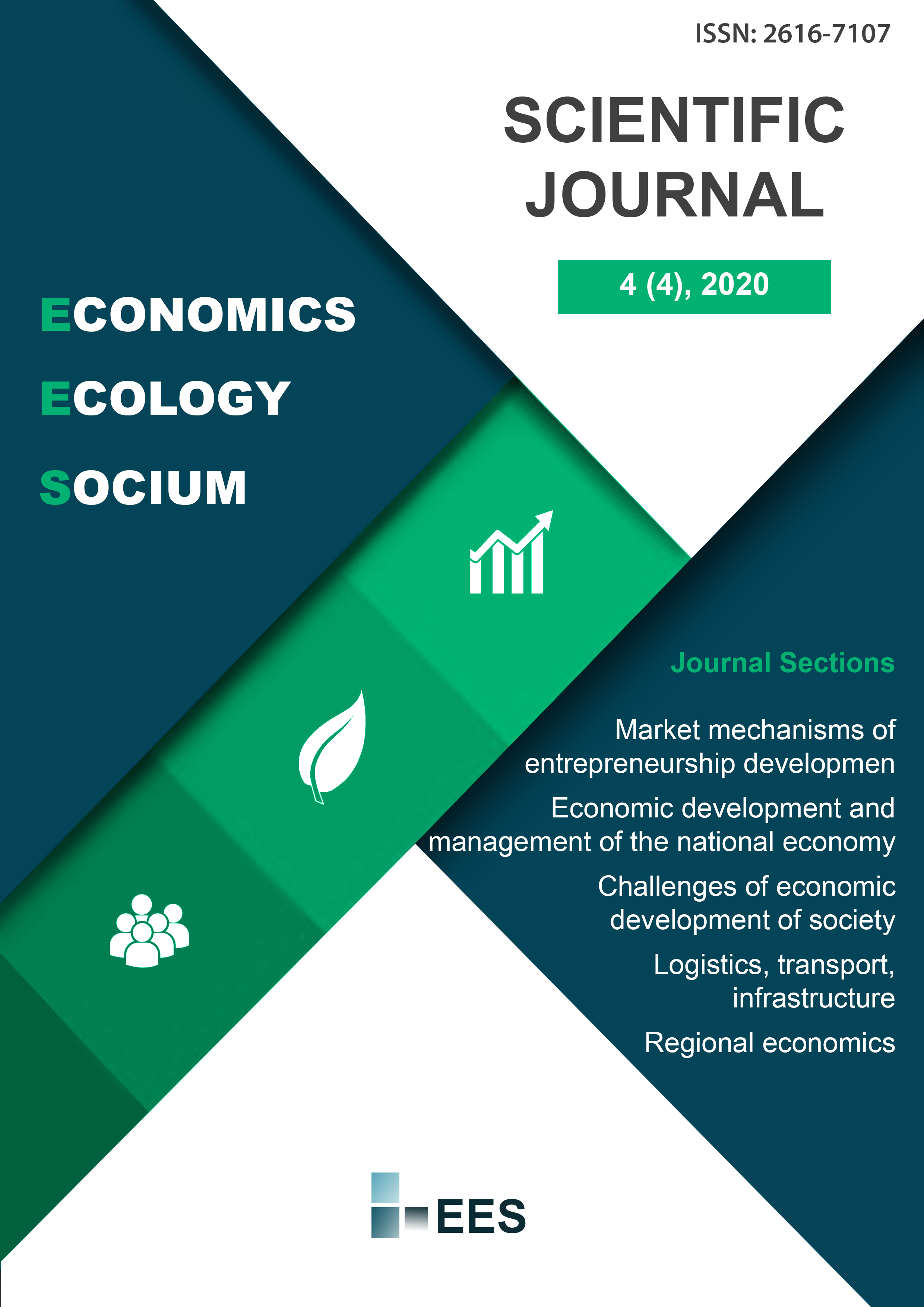 How to Cite
(1)
Bogoyavlenska, Y.; Persia, L.; Bondarenko, K. Smart-Logistics for People Management of Innovative Small and Medium Enterprises` Development: Agile Methodology. Economics. Ecology. Socium 2020, 4, 8-15.
If the article is accepted for publication in the journal «Economics. Ecology. Socium» the author must sign an agreementon transfer of copyright. The agreement is sent to the postal (original) or e-mail address (scanned copy) of the journal editions.