Institutional provision of inclusive recreational nature management: background status and requirements
Abstract
Introduction. The fundamental principles of inclusive development are equality of opportunity, availability of all types of resources, equality and fairness in the distribution of income and benefits. The main message of inclusive recreational nature management is the creation of equal opportunities for the use of natural recreational resources and areas for the well-being and quality of life of people. Realization of priorities of the organization of recreational activity is not possible without the developed institutional maintenance. Defining the leading role of state authorities and civil society representatives, which establish a system of laws, rights and responsibilities, "rules of the game" and develop a set of mechanisms for their close institutionalized interaction, it is necessary to form institutions within which public representatives reconcile contradictions and determine common interests.
Aim and tasks. The purpose of the study is to study the state and develop directions for the development of institutional support for inclusive tourism and recreational nature.
Results. The article examines the state of institutional support for inclusive tourist and recreational nature management in Ukraine. The essence and its content are determined, the documents according to which it is determined are analyzed. The domestic legislative and normative-legal base of regulation of nature use in general and recreational in particular is studied, where separate principles of inclusive development are laid down. At the same time, a significant layer of problems remains unresolved, including the formation of new principles, forms of management to prevent the degradation of natural recreational resources, their diversity and sustainability. The interaction of formal institutions and institutes (legislative and normative base, system of state regulation, bodies of state administration and local self-government, public organizations, approved norms and norms of nature use) and informal institutions has to promote inclusive recreational nature use.
Conclusions. The study of the state and directions of development of institutional support of inclusive recreational nature management allowed to determine that the implementation of an inclusive approach requires: changing the structure and stereotype of recreational needs of people and restructuring the economy of recreational nature management; reducing economic and social inequality of people to meet their recreational needs and ensuring equal access to valuable natural recreational resources.
Keywords:
inclusive recreational nature management, institutional support, recreational resources, recreational activities, social values.
References
1. Cherchyk, L. (2020). Modern challenges of development of the tourist and recreational sphere of Ukraine. Tourism in the XXI century: challenges and responses: International scientific-practical conference. (November 27, 2020, Taras Shevchenko National University of Kyiv, Kyiv). (рр. 147-150).
2. State Administration of Ukraine (2021). dus.gov.ua. http://www.dus.gov.ua/
3. Kornazkiy V. (2008). Health problems and increase of life span in Ukrainian population. Scientific discussions, 5(67), IX-X. https://www.umj.com.ua/article/2596/problemi-zdorov-ya-ta-podovzhennya-trivalosti-zhittya-naselennya-ukraini
4. State Statistics Service of Ukraine (2019). Health care facilities and morbidity of the population of Ukraine: stat. byul. (2010–2019). http://www.ukrstat.gov.ua/druk/publicat/Arhiv_u/15/Arch_zozd_bl.htm
5. Robinson, J. A., & Acemoglu, D. (2012). Why nations fail: The origins of power, prosperity and poverty. London: Profile.
6. Antoniuk, V. (2015). Recreation and tourism spheres of ukraine as a factor of human development. Collection of scientific works of the Tavriya State Agrotechnological University (economic sciences), 29, 146–152.
7. Bazilyuk, A., Zhulyn, O. (2015). Inclusive growth as the basis of socio-economic development. Economics and management of transport, 1, 19–29. http://nbuv.gov.ua/UJRN/eut_2015_1_5.
8. Popova,O., Koval, V., Mikhno, I., Tarasov, I., Asaulenko, N., Filipishyna, L. (2020). Assessments of national tourism development in terms of sustainability and inclusiveness. Journal of Geology, Geography and Geoecology, 29 (2), 377-386. https://doi.org/10.15421/112033
9. Berveno, O. (2020, February 1–28). Inclusiveness as a system characteristic in the current structure of quality of life. Inclusive economic development in terms of global challenges of today, Kharkiv, Kharkiv. nat. un-t city. household in them. O. Beketova, pp. 14-16.
10. Burkynskyi, B., Маrtienko, А. & Khumarova, N. (2017). Institutional principles for improving ownership relations for recreational and tourist resources in Ukraine. Ukraine economy, 2, 61-73.
11. Kozhina, A. (2018). Factors of inclusive local development: approaches to classification. Visn. NADU. Public Administration Series, 4 (91), 21–30.
12. Grinenko, A. (2010). Values in the formation of social cohesion of society. https://ir.kneu.edu.ua/bitstream/handle/2010/2934/Grynenko.pdf?sequence=1&isAllowed=y
13. Petrushenko, M., Shevchenko, H., Burkynskyi, В., Khumarova, N. (2019). A game-theoretical model for investment in inclusive recreation and wellness in Ukraine: the regional context. Investment Management and Financial Innovations, 16(4), 382-394. https://doi.org/10.21511/imfi.16(4).2019.32
14. Petrushenko, M. (2020). "Inclusive experience economy" – wellness and recreation: from production to contemplative nature management. Economic Innovations, 22(2(75), 82-92. https://doi.org/https://doi.org/10.31520/ei.2020.22.2(75).82-92.
15. Boao Forum for Asia Declaration on Economic Globalization (2017). Boao, 24.03.2017: http://english.boaoforum.org/2017annews/33332.html
16. European Commission (2020). Europe 2020. Priorities. http://ec.europa.eu/europe2020/europe-2020-in-a-nutshell/priorities/index_en.htm.
17. International Bank for Reconstruction and Development (2014). The World Bank. https://www.worldbank.org
18. Baklanova, O., Petrova, M., Koval, V. (2020). Institutional Transmission in Economic Development. Ikonomicheski Izsledvania, 29(1), 68-91.
19. Tóth, A., Bihuňová, M., Halajová, D., & Štepánková, R. (2014, MAY 05-06). Towards an inclusive approach to recreation and landscape protection. Public recreation and landscape protection-with man hand in hand, Brno, Czech Republic, 335-339.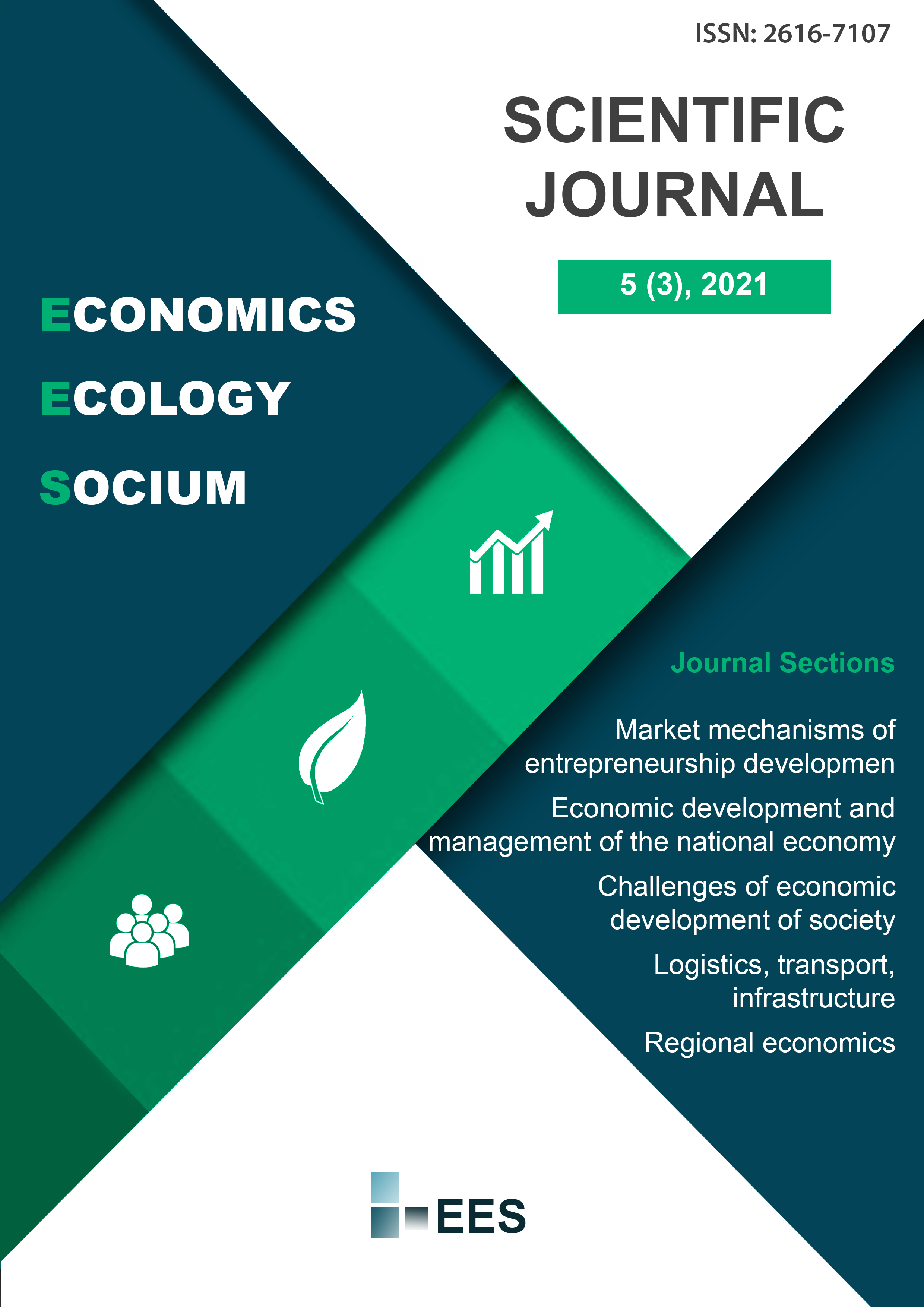 How to Cite
(1)
Cherchyk, L.; Khumarova, N. Institutional Provision of Inclusive Recreational Nature Management: Background Status and Requirements. Economics. Ecology. Socium 2021, 5, 10-18.
If the article is accepted for publication in the journal «Economics. Ecology. Socium» the author must sign an agreementon transfer of copyright. The agreement is sent to the postal (original) or e-mail address (scanned copy) of the journal editions.