Factors hindering the development of agricultural cooperatives in Georgia
Abstract
Introduction. The lack of an appropriate methodological basis for creating agricultural cooperative system prevents the process of organizing formation of new agricultural cooperatives, which leads to an objective need to develop the organizational and economic basis for the formation and operation of agricultural cooperatives. In this regard, the research and study of theoretical aspects, analysis of objective conditions for the formation and operation of agricultural cooperatives, development of methodological provisions and practical recommendations to substantiate their organizational and economic mechanism, including matters of management, profit, price, credit, formation and distribution are topical to the issue and most of the components listed above are of great practical importance.
Aim and tasks. The aim of the research is to develop scientific, organizational and economic basis for the establishment and operation of agricultural cooperatives in a multistructural economy. The objectives of the research are: identifying the essence of the cooperative, adding several principles to the formation and classification of agricultural cooperatives, determining the conditions and factors necessary for their creation.
Results. Theoretical and regulatory aspects of formation and development of agricultural cooperatives were specified taking into account the introduction of new principles for their operation: mandatory creation of indivisible funds for innovative activities, agricultural producers' interest and expediency for their participation in the associations; and classification of cooperatives in the production and service industries.
Conclusions. Based on consideration of the integrated approach to the formation of cooperatives and farmers' organizations, necessary documentation and calculation of economic efficiency, the methodological provisions developed in the process of the research on the establishment and operation of agricultural cooperatives will allow agricultural producers to approach the formation of necessary cooperatives skillfully, easily determine the absolute and specific tax burden of agricultural cooperatives.
Keywords:
agricultural cooperative, developmental barriers, impact-urgency-priority matrix
References
1. Gechbaia, B., Kharaishvili, E., & Mushkudiani, Z. (2019). The trends of producing agro-food products and export innovative marketing strategy in Georgia. Economics. Ecology. Socium, 3(3), 1-10.
2. Kharaishvili, E., Gechbaia, B., & Mamuladze, G. (2018). Vegetable market competitive advantages of Georgian product and competition challenges. Innovative Marketing, 14(3), 8-16.
3. Gechbaia, B., Kharaishvili, E., Zviadadze, E., Mushkudiani, Z., & Tsilosani, A. (2021). Trade and economic relations between Georgia and the Czech Republic: challenges in export and import of agri-food products. E3S Web of Conferences, 280, 11006..
4. Baramidze, V., Ketereli, A., Koshid, M. (2015). Basic pests and diseases of vegetable and vegetable crops and fight against them in Georgia. Tbilisi.
5. Ekanem, E., Mafuyaib, M., & Clardy, A. (2016). Economic Importance of Local Food Markets: Evidence from the Literature. Journal of Food Distribution Research, 47(1), 57-64.
6. De Cicco, A. (2016). The fruit and vegetable sector in the EU – a statistical overview. Retrieved July 20, 2021 from https://ec.europa. eu/eurostat/statistics-explained/ index.php/The_fruit_and_vegetable_sector_in_the_EU_-_a_statistical_overview
7. Economic Policy Research Center (2016). Research of DCFTA Impact on Georgian Small-Holder Farmers.
8. Georgian National Statistics Office (2018). www.geostat.ge
9. Ministry of Environment Protection and Agriculture of Georgia (2017). Agriculture of Georgia (Annual report 2017).
10. Maslova V. , Zaruk N., Fuchs C., Avdeev M., (2019). Competitiveness of Agricultural Products in the Eurasian Economic Union.
11. Erkomaishvili, G., (2016). Priority Directions of Economic Development Policy of Georgia. Tbilisi.
12. Ministry of Environmental Protection and Agriculture of Georgia (2015). Strategy for Agricultural Development, in Georgia 2015-2020. Retrieved from www.moa.gov.ge/Download/Files/227.
13. BMC (2020). Impact, Urgency & Priority: Understanding the Matrix. https://blogs.bmc.com/impact-urgency-priority/?print=pdf
14. Popova, O., Koval, V., Antonova, L., & Orel, A. (2019). Corporate social responsibility of agricultural enterprises according to their economic status. Management Theory and Studies for Rural Business and Infrastructure Development, 41(2), 277–289. https://doi.org/10.15544/mts.2019.23
15. Österberg, P., & Nilsson, J. (2009). Members' perception of their participation in the governance of cooperatives: the key to trust and commitment in agricultural cooperatives. Agribusiness: An International Journal, 25(2), 181-197.
16. Arsawan, I., Wirga, I. W., Rajiani, I., & Suryantini, N. P. S. (2020). Harnessing knowledge sharing practice to enhance innovative work behavior: the paradox of social exchange theory. Polish Journal of Management Studies, 21.
17. Ahado, S., Chkhvirkia, L., & Hejkrlik, J. (2021). Is the Success of Rural Cooperatives Conditioned by the Group Characteristics and Their Value Chain? Evidence from New Farmer Groups in Georgia. The European Journal of Development Research, 1-26.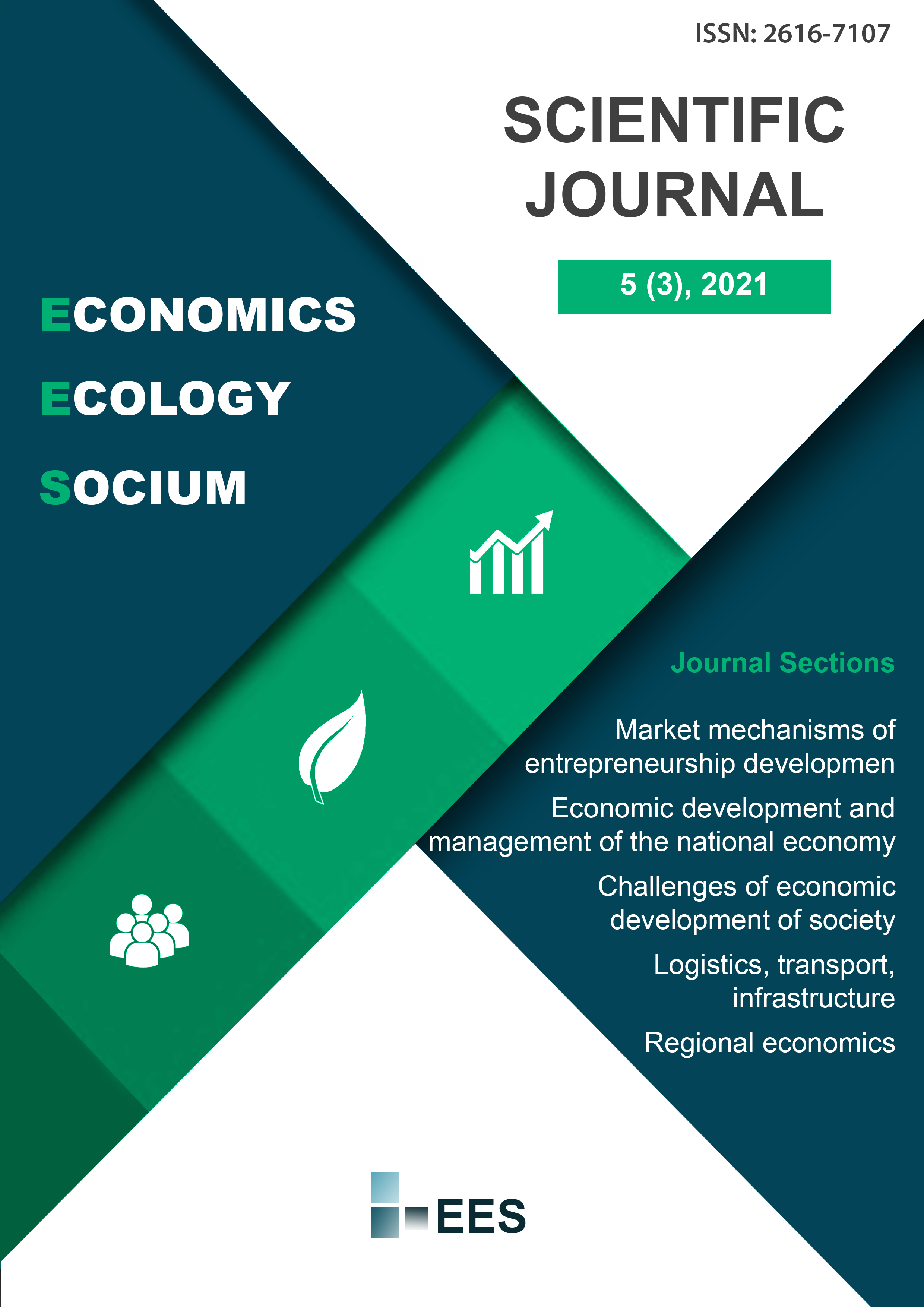 How to Cite
(1)
Sanikidze, H. Factors Hindering the Development of Agricultural Cooperatives in Georgia. Economics. Ecology. Socium 2021, 5, 29-38.
If the article is accepted for publication in the journal «Economics. Ecology. Socium» the author must sign an agreementon transfer of copyright. The agreement is sent to the postal (original) or e-mail address (scanned copy) of the journal editions.